The Forgotten Fifth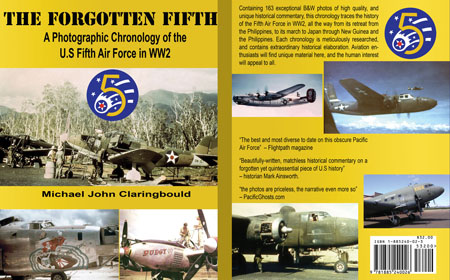 Soft cover book, 116 pages laser-printed in A4 size; 51,225 words with index complemented with 160 rare B&W photos.
This chronology traces the history of the U.S Fifth Air Force in WW2, from its march to Japan through New Guinea and the Philippines. Each chronology is meticulously researched, and contains extraordinary historical elaboration. Aviation enthusiasts will find unique material here, and the human interest factor will appeal to all.
"the best and most diverse to date on this obscure Pacific Air Force" - Flightpath magazine
"Beautifully-written, matchless historical commentary on a forgotten yet quintessential piece of U.S history" – historian Mark Ainsworth.
"the photos are priceless, the narrative even more so" – www.pacificghosts.com
Click on below to see an example page and part of the index